Originally published by The LA Times
Claudia Oliveira, a board member of the Downtown Los Angeles Neighborhood Council, showed up on Broadway with more than a dozen volunteers Saturday morning to sweep up broken glass and swab down walls.
A Brazilian immigrant, Oliveira grew up in Minneapolis. She said she understood the anger and the outrage that boiled over Friday night, saying George Floyd's death at the hands of a police officer in her hometown made her want to throw up.
"I'm a black Latina undocumented immigrant," she said. "It hurts me. I feel distraught and angry and frustrated. We saw an innocent man's life taken from him."
But she said she was frustrated that the damage in downtown would disproportionately hurt the working class and people of color.
Numerous businesses were damaged by the unrest, which lasted hours in the heart of the historic core and along the Broadway corridor.
Protests against the killing of Floyd and police brutality have raged across the country in recent days, turning violent in various cities. In downtown L.A., the situation deteriorated into vandalism and looting late Friday evening.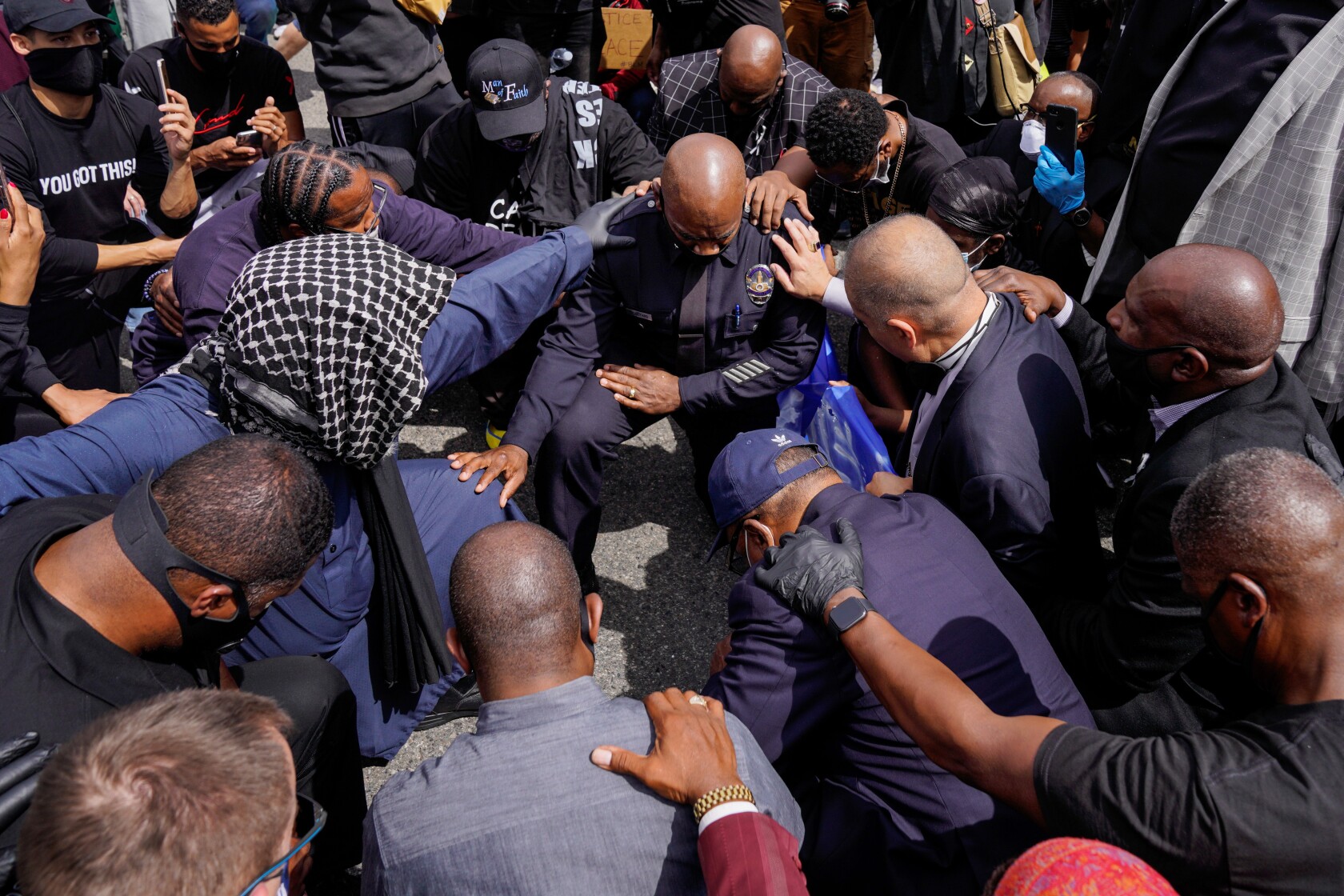 LAPD Cmdr. Gerald Woodyard takes a knee with protesters and L.A. clergy during a march in downtown Los Angeles on Tuesday.  
(Kent Nishimura/Los Angeles Times)
Most stores that were vandalized or looted are mom-and-pop stores, "immigrant-owned, run by black and brown folks," Oliveira said.
The chain stores that were damaged, including Walgreens and Fallas Paredes, provide jobs, sell affordable goods and serve as lifelines for poor and homeless residents in downtown, Oliveira said.
As Oliveira spoke, an elderly woman wearing a face mask and using a walker approached the Rite Aid at 5th Street and Broadway, which was closed behind metal gates. She asked a security guard standing outside when it would reopen, saying, "I need my prescriptions."
A Starbucks at 6th and Spring streets saw some of the worst damage, with windows smashed and damage to the inside of the store. The cafe is in the first floor of the Hotel Hayward, a single-resident occupancy hotel for low-income residents, Oliveira said.
"It's not that I don't understand the struggle or the anger," she said. "I'm freaking furious. But who would want to hurt and steal from black- and brown-owned businesses?"
The owner of Sally's Snack Shop on 6th Street stood on a ladder on the sidewalk on Saturday morning, using a hammer to try to bend his store's metal security gate back into shape. Crowds had dented it and shattered the glass behind it, he said. He was struggling to get inside to assess the damage.
The store has been in downtown for 65 years, and he's owned it for 16, said the owner, who would give only his first name, Roger. He said he understood why people were angry, but that the destruction to his business could devastate him financially. His shop was just preparing to reopen after being closed for two months during the coronavirus stay-at-home orders.
"Why me?" he said. "Why here?"
Inside Discount Electronics, owner Bill Nabati rubbed his face and fielded multiple calls from his security alarm company as he surveyed the shattered glass and merchandise strewn across the floor.
"They looted my store," said Nabati, who has run the small storefront on Broadway since 1983. "After two months of the coronavirus, we don't need this."
Some electronics had been taken, and windows were broken and shelves smashed, Nabati said. He said the damage would take three weeks to repair, but that he would need to conduct an inventory to assess how much had been stolen.The last time he saw this kind of damage was in 1992, he said.
As then, Nabati said, he was frustrated that the police had not done more to protect his small business.
"They knew it was going to happen and they told me I needed to prepare," Nabati said. "There's only so much I can do. It's out of my hands. If they want to come destroy my business, they can."
Read more:https://www.latimes.com/california/story/2020-05-30/stores-immigrants-downtown-la-looting-vandalism