Originally published by The Atlantic
A few times a month, San Francisco's immigration court becomes a day-care center of sorts. Toys, stuffed animals, and coloring books decorate the waiting room. Children as young as four years old have come here not to play, but to stand in front of an immigration judge and defend themselves against deportation.
When I visited the court one afternoon this past March, about 20 kids had formed a single-file line as they waited to go through security. Wide-eyed boys in t-shirts and jeans cracked their knuckles. Many had never been to a courtroom before. Some were wearing suits in an attempt to make a good first impression. Some of them took a seat on the thinly padded metal chairs, crossing and recrossing their legs. Teenage girls with colorful ribbons in their hair studied their surroundings.
"It looks almost like you're going into a pediatrician's office," said Katie Annand, the managing attorney with Kids in Need of Defense (kind), an organization that helps immigrant children find attorneys. "There are children lining the benches of the courtroom. Many of them … have no one to represent them."
For immigrant children living in San Francisco, state funding, non-profit legal services, and volunteer attorneys mean that they have a better chance of having a lawyer stand by their side during deportation proceedings. That's not the case for children who must find their way roughly 180 miles from Fresno County, in the heart of California's Central Valley, where a sizable immigrant population lives.
On that day in March, the children entered the courtroom slowly and silently. These children are classified as "unaccompanied alien children" (UAC), or minors who traveled to the U.S. without a parent or legal guardian. As they settled onto the wooden benches, they listened carefully to a young female employee speaking in Spanish. "If you don't have an attorney, please follow me to the waiting room." That's almost all of them: Of the approximately 20 children who were there that day, only two had representation.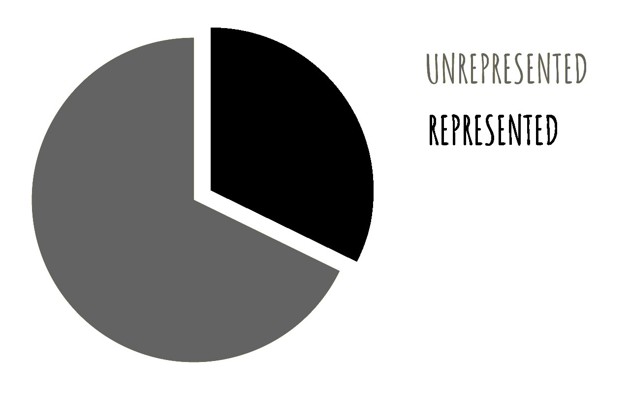 Immigration courts are classified as civil courts, which means that unaccompanied children aren't guaranteed a right to a government-appointed attorney the way they would be in a criminal court. Instead, if they want legal help, they have to find—and, usually, pay for—an attorney themselves. Around one-fourth of unaccompanied children facing deportation are represented by an attorney, according the most recently available data which was collected in August 2017.
Having an attorney makes a huge difference: As of 2014, over 80 percent of children who showed up to court unrepresented were deported, according to Syracuse University's TRAC Immigration database. For children who appeared in court with legal representation, only 12 percent were deported.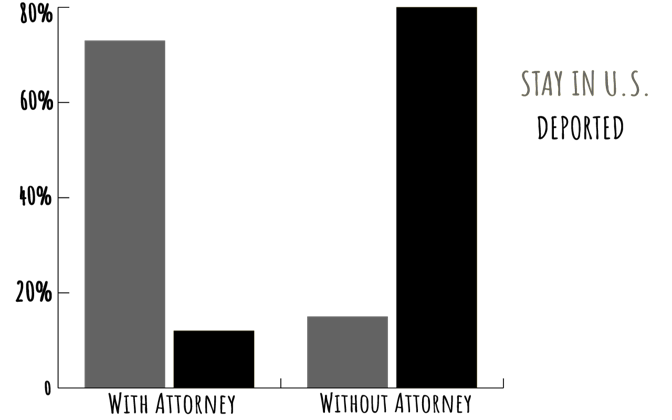 Since 2014, more than 500 unaccompanied children have settled in Fresno County; after being released to sponsors who can care for them temporarily, these children must undergo court proceedings to determine their future. In the rural, agricultural communities in this county, reputable immigration lawyers are scarce. And limited free legal services, as well as distance from immigration courts, are major obstacles for unaccompanied minors in deportation proceedings. This means that many children are left navigating their way through a foreign legal system that has few resources to help the undocumented, who make up 38 percent of the immigrant population in the Fresno region, according to a 2014 estimate.
"We've seen children from the Central Valley who have been to court four or five times without an attorney," Annand said. "They've had to pay $200 each time to get a ride up here for court, so they are coming up to court just to say 'I don't have an attorney.'"
More than 200,000 children under the age of 18 have traveled to the U.S. across the Southwest border alone in the past four years, according to data from the U.S. Customs and Border Protection agency (these numbers don't account for children who may have crossed into the country unnoticed). Most of the children arriving in recent years have come from the Northern Triangle—Guatemala, El Salvador, and Honduras. Some are hoping to reunite with family in the U.S. Others are fleeing gang violence, like one 18-year-old girl who fled Guatemala when she was 17 and lives just outside Fresno County. (She asked to be identified as Zoe in order to protect her identity.)
Zoe's mother, a small-business owner, was blackmailed by gang members, she said. After that, Zoe and her family decided that it wasn't safe for Zoe to stay in Guatemala. Zoe recalled waking up at two in the morning to take the bus. After saying goodbye to her mother and two brothers, who were staying behind so that the eldest could finish college, she left. The trip lasted about 20 days. Zoe's final destination was Fresno, where she hoped she would live with her father, whom she hadn't seen since she was a small child. Even if a child reunites with a parent or legal guardian who lives in the U.S., they may still be considered UACs since they entered the country on their own. Once here, she received a letter to appear in front of a judge at the San Francisco Immigration Court.
One 19-year-old living in Fresno who showed up at the San Francisco Immigration Court unrepresented told me, "I didn't have lawyers; I didn't have money to pay them. I had nothing." He's currently in immigration proceedings and asked to be referred to as Eduardo, since he was afraid that publicity could affect his attempt to gain legal status. While Eduardo is not a minor anymore, he was when he arrived in the U.S. He traveled from Guatemala to the United States when he was 17 to reunite with his mother, whom he hadn't seen since he was 3 years old, in California. About $2,000 got him a guide, or guía, who took him as far as the U.S. border. After reaching the Rio Grande river, he wandered through the desert under the burning sun for about six hours, until he ran into authorities. Eduardo turned himself in and was held in a detention center in Texas, before being sent to live with his mother in the Central Valley.
Read more:https://www.theatlantic.com/politics/archive/2018/08/children-immigration-court/567490/